ABOUT
Goat Island
---
As you experience this special place, a stillness washes over. The pure beauty of the trail, winding in harmony with the shores of the Bras d'Or Lake, is an exceptional backdrop to this authentic and powerful Indigenous cultural experience. Eskasoni Cultural Journeys provides an essential voice for Mi'kmaw heritage.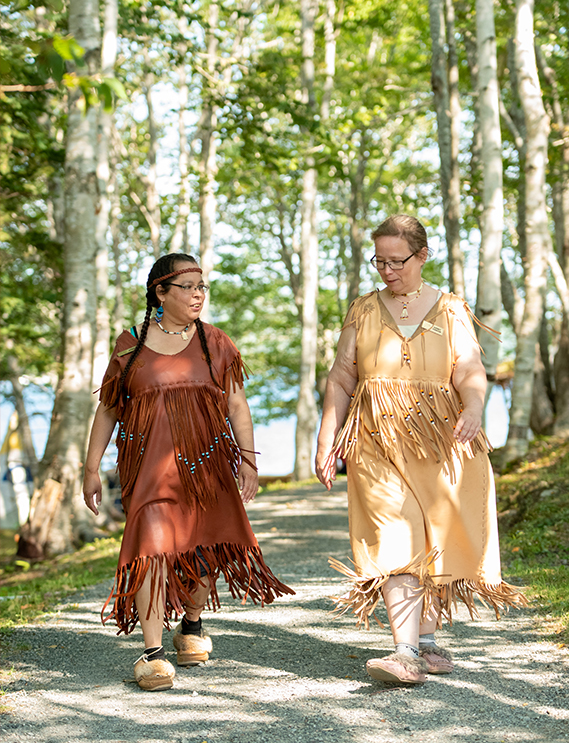 Eskasoni First Nation is the largest Mi'kmaq community in the world. Deeply rooted within Eskasoni is the Mi'kmaq culture. We are proud to say that we are home to the largest Mi'kmaq speaking community with close ties to traditional culture and beliefs.
The community of Eskasoni has a proud history of supporting its young population with events that promote a healthy and active lifestyle among its 4,000 community members. With a dedication to improving the lives of its future generation, the Eskasoni community strives to be culturally rich and respectful of its ecosystem based on concepts of shared responsibility.
A true acknowledgement of the life of the Mi'kmaq, historically and modern day, Goat Island invites visitors to share in a unique story while preserving its First People's culture. As one of the first market ready Mi'kmaw experiences in the Atlantic, Goat Island leaves a lasting emotional impact on all who visit.
We invite you to….
Our community in a spirit of humility and with a genuine desire to meet and talk with local people
Become aware of the feeling of our Elders and community members and respect their customs in our actions
Cultivate the habit of listening, of not always talking and having answers; of learning by watching and listening and by sharing our stories
Realize that other people may have concepts of time and thought patterns different from ours
Discover the richness of everyday activities in other cultures
Use the opportunity of travel for personal and transpersonal growth and global understanding of different cultures and traditions
The interpretive team at Goat Island are proud of their culture and heritage and are excited to share it with others. The mix of old with new, the reality of then and now, work brilliantly together to enhance understanding of a people and a culture that were here since time immemorial. The Elders lend dignity, authenticity, credibility and life experience that only age can bring. Visitors are touched by the gifts of knowledge, wisdom and humour imparted by each interpreter in their own right.
Interpretive panels and art installations situated throughout the site offer even more knowledge. Modern-day expositions relating to Murdered and Missing Indigenous Women and Children of Residential Schools are a powerful vehicle to impart understanding of a people that have endured decades and centuries of systemic racism. This is carefully balanced with the sharing of beautiful stories and traditions, and by engaging visitors through dance, drumming, games and the baking of bread over an open fire. Goat Island is fiercely authentic and powerful – you feel it the minute you take your first step.
What's Happening
Check back soon to see what's happening
---
There are no upcoming events at this time.
Please check back later!